iPhone 6 / iPhone 6 Plus Touch Disease Repair / Gray Bar Of Death Repair
$110.00
If your iPhone 6 or iPhone 6 Plus is suffering from touch disease / have a flickering gray bar at the top of your phone, The Device Shop can help.
iPhone 6 Plus Touch Disease Replacement Cost:
For this repair we charge $110 + tax + shipping. If the repair is not successful your money will be refunded minus the cost of shipping. Once your device is received it is generally repaired within 48 hours.
Please note, The Device Shop is not liable for any loss of data. This repair is complicated, and although we have expert technicians that perform this repair, there are no guarantees, and it's possible your device could be damaged further and or not turn on at all.  The Device Shop is not responsible.  There is no charge if your device is not fixed.
To continue, add this repair to your cart, check out, and follow directions from there. If you have any questions please email us at [email protected] with subject Touch Disease Question.
Similar

Products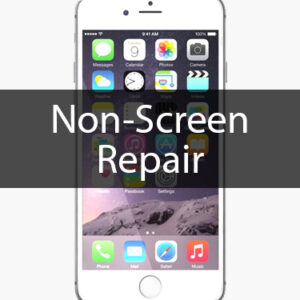 iPhone 6 Internal Repair
$

60.00
Notice
: id was called
incorrectly
. Product properties should not be accessed directly. Backtrace: require('wp-blog-header.php'), require_once('wp-includes/template-loader.php'), include('/themes/computer-repair/woocommerce/single-product.php'), wc_get_template_part, load_template, require('/themes/computer-repair/woocommerce/content-single-product.php'), do_action('woocommerce_after_single_product_summary'), WP_Hook->do_action, WP_Hook->apply_filters, woocommerce_output_related_products, woocommerce_related_products, wc_get_template, include('/themes/computer-repair/woocommerce/single-product/related.php'), wc_get_template_part, load_template, require('/themes/computer-repair/woocommerce/content-product.php'), do_action('woocommerce_after_shop_loop_item'), WP_Hook->do_action, WP_Hook->apply_filters, woocommerce_template_loop_add_to_cart, wc_get_template, include('/themes/computer-repair/woocommerce/loop/add-to-cart.php'), WC_Product_Simple->add_to_cart_url, apply_filters('woocommerce_product_add_to_c in
/www/thedeviceshopcom_940/public/wp-includes/functions.php
on line
5663
Notice
: product_type was called
incorrectly
. Product properties should not be accessed directly. Backtrace: require('wp-blog-header.php'), require_once('wp-includes/template-loader.php'), include('/themes/computer-repair/woocommerce/single-product.php'), wc_get_template_part, load_template, require('/themes/computer-repair/woocommerce/content-single-product.php'), do_action('woocommerce_after_single_product_summary'), WP_Hook->do_action, WP_Hook->apply_filters, woocommerce_output_related_products, woocommerce_related_products, wc_get_template, include('/themes/computer-repair/woocommerce/single-product/related.php'), wc_get_template_part, load_template, require('/themes/computer-repair/woocommerce/content-product.php'), do_action('woocommerce_after_shop_loop_item'), WP_Hook->do_action, WP_Hook->apply_filters, woocommerce_template_loop_add_to_cart, wc_get_template, include('/themes/computer-repair/woocommerce/loop/add-to-cart.php'), WC_Product_Simple->add_to_cart_url, apply_filters('woocommerce_produc in
/www/thedeviceshopcom_940/public/wp-includes/functions.php
on line
5663
Notice
: id was called
incorrectly
. Product properties should not be accessed directly. Backtrace: require('wp-blog-header.php'), require_once('wp-includes/template-loader.php'), include('/themes/computer-repair/woocommerce/single-product.php'), wc_get_template_part, load_template, require('/themes/computer-repair/woocommerce/content-single-product.php'), do_action('woocommerce_after_single_product_summary'), WP_Hook->do_action, WP_Hook->apply_filters, woocommerce_output_related_products, woocommerce_related_products, wc_get_template, include('/themes/computer-repair/woocommerce/single-product/related.php'), wc_get_template_part, load_template, require('/themes/computer-repair/woocommerce/content-product.php'), do_action('woocommerce_after_shop_loop_item'), WP_Hook->do_action, WP_Hook->apply_filters, woocommerce_template_loop_add_to_cart, wc_get_template, include('/themes/computer-repair/woocommerce/loop/add-to-cart.php'), WC_Product_Simple->add_to_cart_url, apply_filters('woocommerce_product_add_to_c in
/www/thedeviceshopcom_940/public/wp-includes/functions.php
on line
5663
Notice
: id was called
incorrectly
. Product properties should not be accessed directly. Backtrace: require('wp-blog-header.php'), require_once('wp-includes/template-loader.php'), include('/themes/computer-repair/woocommerce/single-product.php'), wc_get_template_part, load_template, require('/themes/computer-repair/woocommerce/content-single-product.php'), do_action('woocommerce_after_single_product_summary'), WP_Hook->do_action, WP_Hook->apply_filters, woocommerce_output_related_products, woocommerce_related_products, wc_get_template, include('/themes/computer-repair/woocommerce/single-product/related.php'), wc_get_template_part, load_template, require('/themes/computer-repair/woocommerce/content-product.php'), do_action('woocommerce_after_shop_loop_item'), WP_Hook->do_action, WP_Hook->apply_filters, woocommerce_template_loop_add_to_cart, wc_get_template, include('/themes/computer-repair/woocommerce/loop/add-to-cart.php'), WC_Product_Simple->add_to_cart_text, apply_filters('woocommerce_product_add_to_ in
/www/thedeviceshopcom_940/public/wp-includes/functions.php
on line
5663
Add to cart